Tinted mobile car window tinting in Merridale offers an all in one car window tinting service. Tinting your car windows yourself, can often be a real pain, selecting the best brand, shade, and also just lining it up on the glass and applying it, can be a real pain! Taking your car to have the tint applied at a local garage can often be a hassle too, needing to take time off work, or losing your vehicle for many hours while you wait for it to be finished, is often not possible.
At Tinted we are completely mobile, and we cover the whole of the West Midlands & Warwickshire including Merridale and surrounding areas. So we will come to your workplace or home, saving you a lot of time or precious holiday days. We offer a lifetime guarantee for your peace of mind, and we are completely insured for every tinting job we do.
We also provide both tinted & sun strips, light tints, roof and bonnet wraps, and interior vinyl wraps.
How it works
You book an appropriate appointment time and place convenient to you.
Our uniformed team will arrive, only requiring access to a power point.
We then clean the vehicle windows with 100% pure water to remove any dirt or microscopic debris before we tint them.
We might need to remove door cards to access the workings of the window. This is done to the best professional standard.
Once the windows are tinted, we believe its best that you do not use the windows for at least 7 days to allow them to completely dry, this safeguards the edge of the tint.
We're then able to accept payment by, bank transfer, cash, or card.
Which window tint shade is the right choice for you?
Selecting the right tint shade can be hard. Here are some questions to ask yourself:
Would this tint be to make you car look great?
Is it to shield children or animals from things like heat & UV rays?
Is it to conceal valuables from view?
From your responses to the questions our trained specialists can help you to select the correct shade. Here are the three main shades to choose from:
Light tint – This is a subtle tint giving protection from UV rays but allowing for full visibility even at night.
Medium tint – This is how many cars come out of the factory, it offers a safeguard from heat, UV rays and also adds some privacy.
Blackout tint – This tint is our most widely selected, it protects from UV rays, heat and offers total privacy.
I'm very pleased with your outstanding work mate you've done on my vauxhall corsa will be recomming you now very pleased well. The money keep up.the good work mate your done excellent.
Really knowledgeable and friendly, the outcome is nothing less than perfect and will definitely be using them again in the near future, can't recommend them enough.
The guys at Tinted Mobile have been nothing short of professional. They've come out and installed the tints, but due to the weather being bad, there were some issues with the tint and some air got underneath the tints. When I informed them about it, they were quick to come out and resolve the issue, even though it was freezing and raining outside. Would definitely hire them again for more tinting jobs.
Amazing service from Tinted start to finish. They were really accommodating with my request for an appointment and completed tinting my rear windows and tail lights to an excellent standard. Very personable and pleasant to talk to as well, thanks again guys!!! My car is looking much better thanks to your work 😊
Super happy with service received, did a great job of the windows and was happy to come back to complete any rectification work if needed, which there wasn't as it was spot on first time, would recommend to anyone.
10/10 experience. Really reasonably priced and did a brilliant job. Would definitely recommend
Ash is a top guy, really friendly and does a great job. With a lifetime guarantee as well you can't go wrong. Would defo recommend.
Asher and parter turned up to tint my 3-series saloon and they were great: friendly, knowledgable and careful. They took time to do a really good job and I'm wondering why I didn't get the tinting done by them sooner. It's transformed the car. Thanks guys!
Hamilton Community Initiative
11/01/2023
I would definitely recommend these guys. A real professional job everytime.
Which car windows can we tint?
We are regularly asked this question. To start with, let's describe how tint is measured.
The percentage produced for a tint defines the amount of light that is allowed through. Therefore a 20% tint permits 20% of light to pass through.
The allowed legal limit on both the driver's and the front passengers window is 70%. The windscreen is 75%. Which means the front windows must let 70-75% of the light through. Nearly all of cars produced today come with tinted windows at almost (or close to) a 70% tint. Even though to some people this glass doesn't seem to be tinted, in actual fact it is.
If you choose to get your front windows tinted your penalties range from (click here for more details):
A 'prohibition notice' stopping your vehicle being used on the road unless you have the extra tint removed.
A penalty notice and a summons by the court system.
Also, something to consider is your car insurance. By tinting your front windows, you can invalidate your insurance.
It is also against the law to install tint to the front windows, with hefty fines and penalties. Tinted is a respectable, reliable and trustworthy company that all clients rely on and because of this we do not want to break the law. So we choose not to tint front windows.
We will happily tint any rear windows as dark as you wish, as there is no legal limit on rear window tints.
What type of tint do you install?
Not all window tint was created equal! The types of window tint available are:
Dyed/Dipped Window
This tends to be the cheapest product available to the market, it fades, bubbles, and normally goes a blue or purple colour after a while. It isn't good quality, and we don't recommend it.
Metalized
This tint is also cheap. It is regularly damaged by the rear window heater lines, which cause it to bubble. It can also interrupt radio signals. This isn't a premium tint, and, won't last.
Carbon or Charcoal
Premium industry-standard tint. It is what we usually use at Tinted, as it gives a great colour, longevity, does not get affected by heater lines and does not affect the radio reception.
Ceramic
The greatest tint on the market, offered as our premium service. It has the best colour/longevity, isn't affected by heater lines, doesn't affect radio signals and gives the most temperature/UV protection.
Having said that, not all window tint manufacturers are the same, after many years in the industry, we have chosen what we think is best brand available, and even better, it is all manufactured in the UK, meaning when you hire our services you're supporting two UK businesses.
Can you offer mobile window tinting near me?
Yes! We are totally mobile and offer mobile window tinting in Merridale and the whole of the West Midlands and Warwickshire.
We can visit your place of employment, or where you live meaning that you don't need to be without your car and don't need to hang around for hours for the job to be completed.
Some other services we offer
Car light tinting
Tinting car headlights or taillights can raise the look of your car without spending too much. Tinted lights can completely change your car and make it look more aggressive, serious or sporty.
Car de-chrome (chrome delete)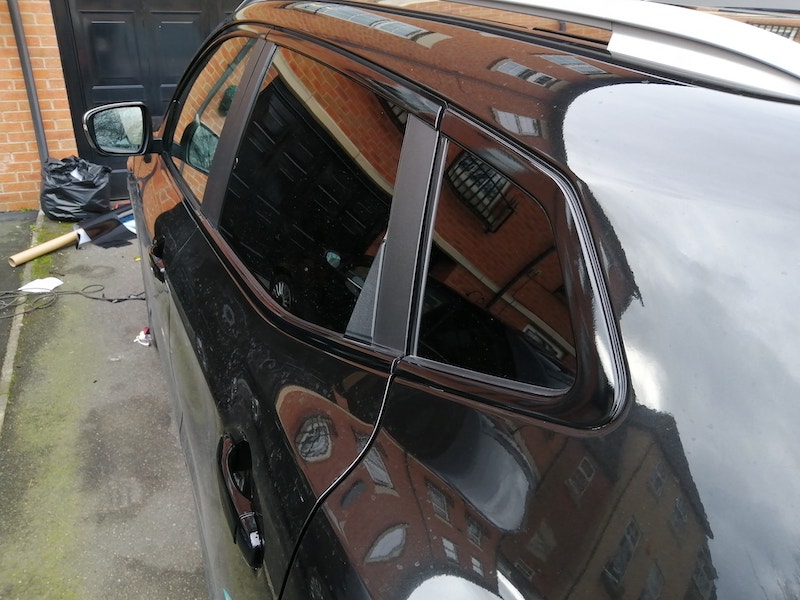 De-chroming can transform the look of your car, giving it a unique appearance and adding some individuality. Chrome delete is bespoke and is able to be applied to spoilers, grills, badges, vents and more.
Car vinyl wrap
Vinyl wrapping can be applied to the interior, or exterior, of a car including the bonnet, wing mirrors, roof and more. It is available in a variety of colours and textures, including, the very popular carbon fibre.
Here are a few other areas we cover